Fantasma: Kate Rohde's Chamber of Specimen
2010.11.06-2012.12.05
Koishikawa Annex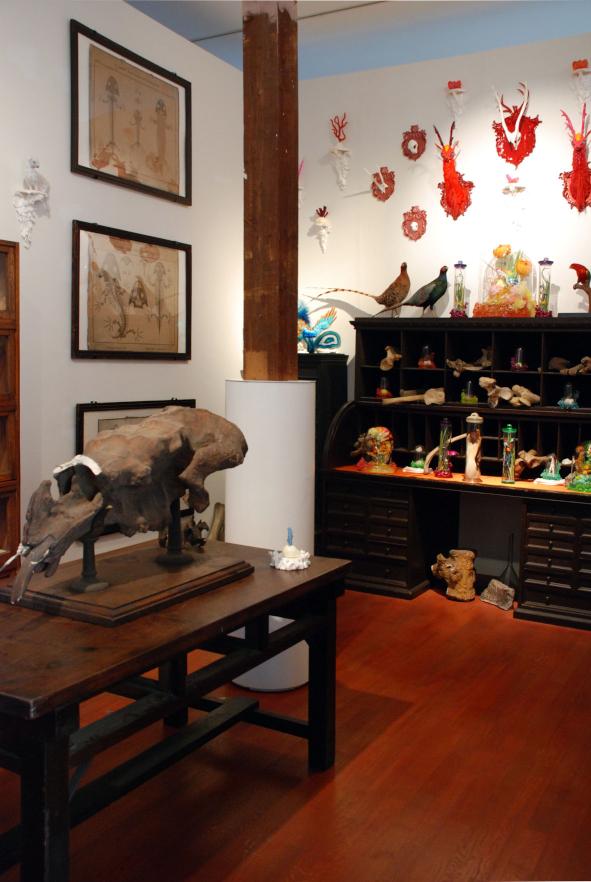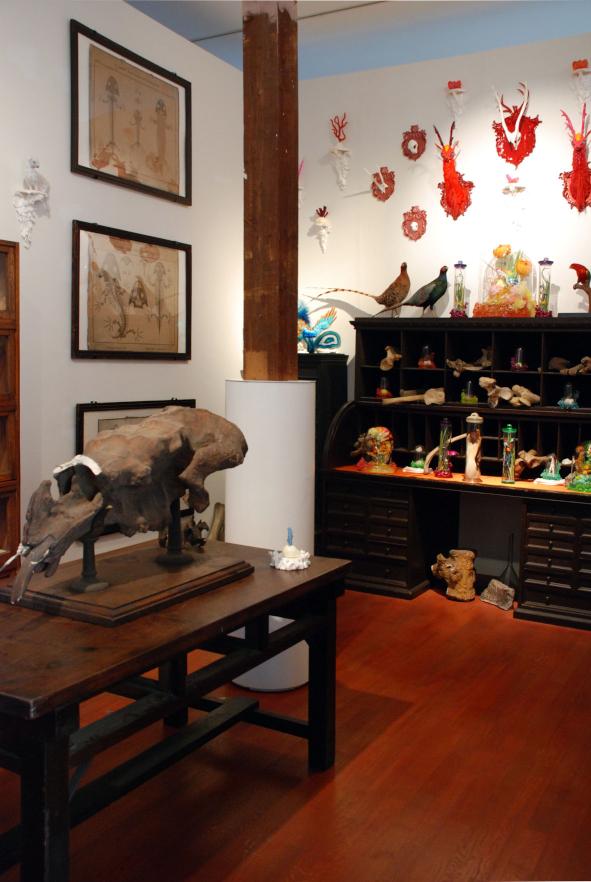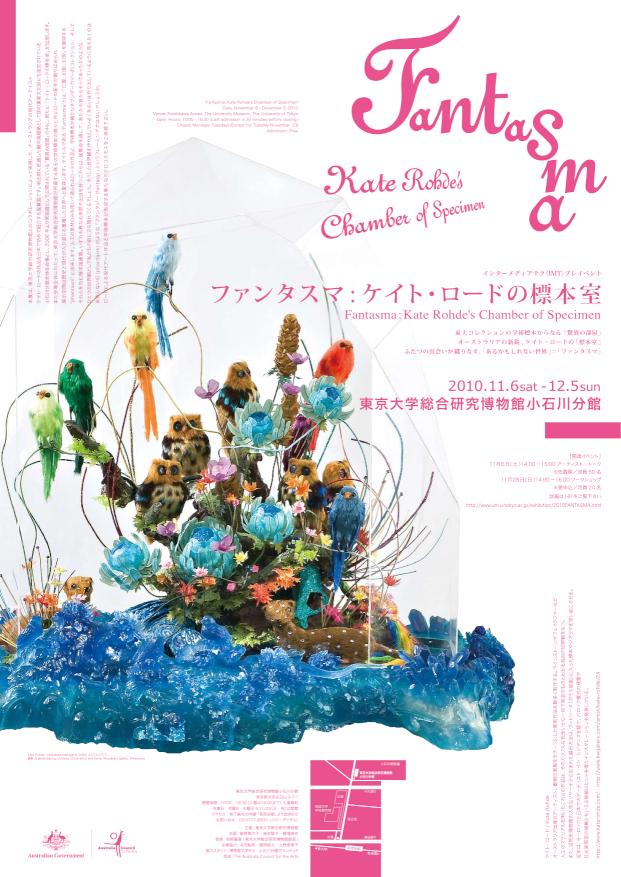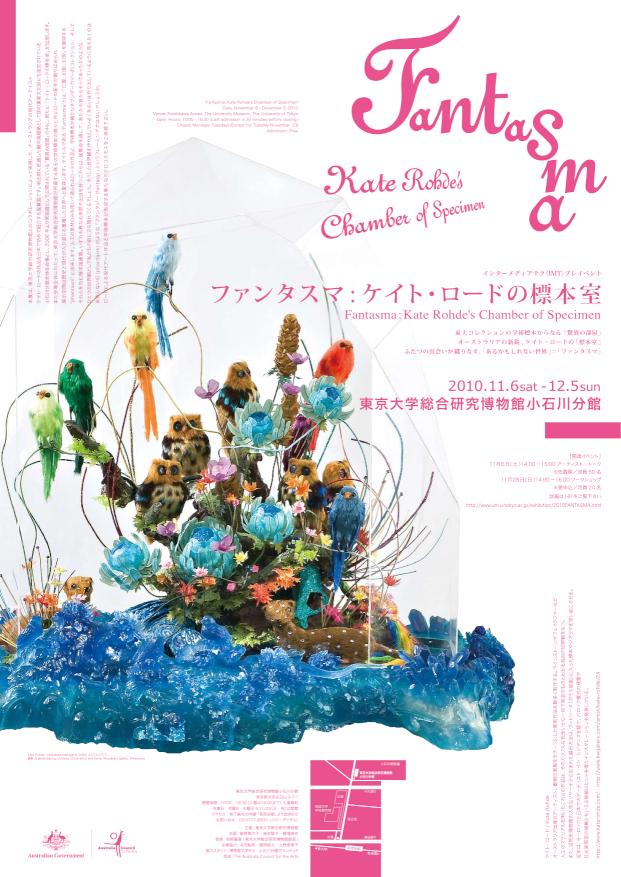 Within the Koishikawa Annex, a building designed in the pseudo-Western style in vogue in the Meiji era, this special exhibition combined the contemporary chamber of curiosities made up of scientific specimens from our collections and the site-specific creations by Australian contemporary artist Kate Rohde they inspired. Entitled Fantasma, this exhibition aimed at opening up an unknown world at the crossroads of existing realms such as the past and the present, science and art, reality and fiction. As a part of the educational program of the University Museum, students from the Museum Technology Seminar participated in the making of the exhibition from the very beginning.


Foreword

 In April 2009, the University Museum, The University of Tokyo (UMUT) launched the Intermediatheque (IMT) Department in order to pursue its research activity in the perspective of creating an "International Multidisciplinary Museum of Science and Culture." In this context, the UMUT is holding the special exhibition Fantasma: Kate Rohde's Chamber of Specimen, as a pre-event for the opening in autumn 2012 of the Intermediatheque (IMT) in the Marunouchi district, in front of Tokyo station.
 The Koishikawa Annex, a historical building designated an Important Cultural Property, displays scientific specimens accumulated since the establishment of the University of Tokyo in the form of a contemporary Wunderkammer, which can be considered as the point of departure of modern museums.The word Wunderkammer refers to the cabinets holding the collections of rare objects built in Western Europe during the Age of Exploration by aristocrats and scholars, according to their sensibility to strangeness and wonder, and regardless of classification.

 For the present exhibition, we welcome within the Koishikawa Annex premises the artworks made of "fake" animals, plants and minerals by Australian contemporary artist Kate Rohde. In creating Rohde's own Chamber of Specimen, we aim at presenting a new worldview inspired by the Wunderkammer, that is distinct from the permanent exhibition. As can be expected from the title Fantasma which is derived from phantom, we hope that the present exhibition will appeal to visitors' wonder and curiosity, and attract them to an unknown and multi-layered world, crossing over the established realms of past and present, art and science, real and fake.

The Organizer
The University Museum, The University of Tokyo

Exhibition Title: Intermediatheque (IMT) Special Exhibition
"Fantasma: Kate Rohde's Chamber of Specimen"
Date: November 6 – December 5, 2010
Venue: Koishikawa Annex, The University Museum, The University of Tokyo
Open Hours: 10:00 – 16:30 (Last admission at 16:00)
Closed: Monday, Tuesday (Except for Tuesday November 23)
Admission: Free
Organizer: The University Museum, The University of Tokyo
Supervisor: Yoshiaki Nishino (The Director of The University Museum, The University of Tokyo
Curators: Miyoko Hoshino, Satoko Shibahara, Mai Hashiba
Project collaborators: Ayumi Terada, Hiroyuki Sekioka, Eriko Ueno
Assistant staff: Museum Technology Seminar, Koishikawa-Annex volunteers
Supported by: The Australia Council for the Arts
The project has been assisted by the Australian Government through the Australia Council, its arts funding and advisory body.